Marvel's Spider-Man: Miles Morales game is an action-adventure game developed by Insomniac Games and published by Sony Interactive Entertainment in 2020. This game is inspired by the character, its comic book, and its 2018 movie, Spider-Man: Into the Spider-Verse. This game is the second part of the Insomniac's Spider-Man series and a sequel to Marvel's Spider-Man 2018. This game was released on PlayStation 4, PlayStation 5, and Windows. It is an open-world game that features modern-day Manhattan covered in snow. You can play Miles Morales as a new Spider-Man while he learns new stories about his will of fighting crimes and serving justice through his mentor and former hero, Peter Parker.
As Miles Morales, a teenager with the emerging title of the most famous superhero, Spider-Man is new, people are very excited and have a lot of expectations from this game. It has been a year since the events of Spider-Man 2018. Now, this 17-year-old teenager takes on duties while Peter is in Europe and must ensure that New York is safe. When a group named Underground takes over the city, Miles must take his job seriously and see how it is to be the most famous superhero of all time.
The main character Miles struggles with his balance of the duties of a civilian and that of a superhero. Miles Morales who is the main focus, has different powers than Peter Parker. It is also said that he has been possessing these powers from a long time. Emerging from a universe in need of a new Spider-Man, Miles takes the challenge and earned the title of a superhero.
The game has become so popular because of its enhanced graphics, customized settings, and various device compatibility. Critics have been giving positive reviews about the game and its detailed gameplay structure and design. The different graphics modes available in this game are very impressive and have impressed all the players and the critics.
Gameplay
Marvel's Spider-Man: Miles Morales game is an open-world game featuring modern-day Manhattan covered in snow as it was set to release during the holidays. When a young New York City teen was bitten by a genetically enhanced spider, a teen named Miles Morales was inspired to take up the fallen mantle after Peter Parker, the Spider-Man.
Gifted with web shooters and guided by Peter Parker, Miles uses his supernatural abilities to become an emerging superhero. The new power has venom blast, which enhances bio-electricity to incapacitate the enemies; camouflage, which gives the character the power to temporary invisibility; and Mega venom blast which damages the enemies by the massive bio-electricity explosions. The character also possesses a "spider-sense" which alerts the player of incoming attacks and helps to retaliate against them using web shooters.
The Miles Morales game also has exciting new gadgets like Remote Mines, gravity wells, and a device to summon holographic fighters that help in combat. The players can level up using the skill tree system and can upgrade these gadgets as well. There are some side missions available for the players to complete to level up. A Spider-Man app gives information about the crimes happening in New York city which helps in fulfilling these side missions.
There is a New York Subway System available in which Miles while traveling fast, stick to objects and takes long jumps. From this, many pretty famous suits can be unlocked which enhances his ability to fight more and gain more powers.
Must watch: Marvel's Spider-Man: Miles Morales PC launch trailer.
Release
The announcement of Marvel's Spider-Man: Miles Morales game was made at the PlayStation 5 reveal event in June 2020 as part of the title launch of the new console. The announcement on the PlayStation blog included the system requirements and the pre-order bonus and the game trailer. A PlayStation 4 version was also released on the same day excluding some of the game's features. A Windows version was launched on November 18, 2022, via Steam and Epic Games Store. The game has sold over 6.5 million copies worldwide since its release in June 2021.
An enhanced version of Marvel's Spider-Man: Miles Morales game was released on Windows in November 2022 by Nixxes Software as a tribute to the Marvel character Black Panther, Chadwick Boseman featuring build-up graphics, framerates, ultrawide monitor support, other technologies like Nvidia's DLSS 3 and Reflex, AMD's Fidelity FX Super Resolution 2.1 and Intel's XeSS.
Also read: Thrilling Spider-Man games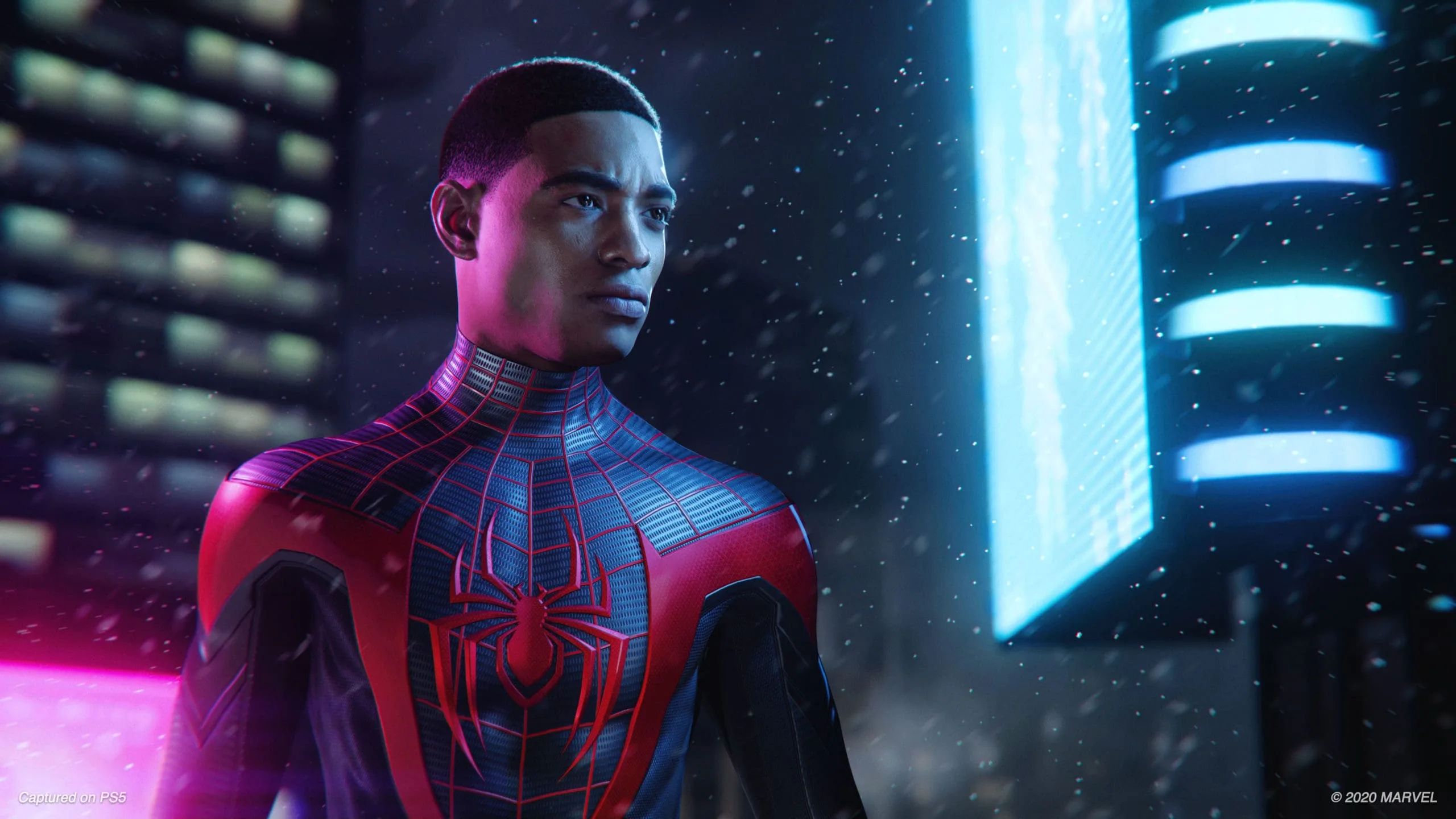 Price
This Spider-Man: Miles Morales game costs $19.99 for both PS4 & PS5. There are two editions of this game, the standard edition is the same price mentioned above and the ultimate edition is $69.99. On Steam and Epic Store Games, Marvel's Spider-Man: Miles Morales is available for $33.49.
The ultimate edition of the Miles Morales game includes Marvel's Spider-Man Remastered (for PS5)- the award-winning game, including all three chapters in the Marvel's Spider-Man: The City That Never Sleeps adventure. If you have the standard version of this game, then you will be able to upgrade to the ultimate edition and download Marvel's Spider-Man Remastered via the in-game menu of Marvel's Spider-Man: Miles Morales on the PS5 console.
Compatibility
Marvel's Spider-Man: Miles Morales game can be enjoyed on many systems, varying from high-end gaming laptops to portable laptops. You can play this game with a controller with a lot of options to choose from. You can use a Dual sense controller for PS5 with a wired USB connection to enjoy the dual sense controller experience, haptic response, and adaptive trigger feedback. Spider-Man: Miles Morales game can also be played by using a mouse and keyboard. The development of the game makes you feel like taking full control and battling against the enemies. For PC, the minimum requirements are a 64-bit processor and operating system. OS: Windows 10 64-bit 1909. Processor: Intel Core i3-4160, 3.6 GHz or AMD equivalent.
Rewards and Recognition
Marvel's Spider-Man: Miles Morales game has been awarded and nominated for many awards. The game has won a total of eight awards and several nominations. It has been awarded the 2021 BAFTA Games Award for Best Music, D.I.C.E. 2021 Award for Outstanding Achievement in Character, Annie 2021 award for Outstanding Achievement for Character Animation in a Video Game, and various NAVGTR Awards.
The new Marvel's Spider-Man: Miles Morales game is awaiting you for a thrilling experience.